Latest news
It's September, time for our Streaming Summer Sizzlers – our hand-picked selection of the very best music streamers packaged up with Loud & Clear's own Sizzle upgrade😎.
Add a digital streamer to your existing music system and we'll add free upgrades to further enhance your enjoyment.  Don't worry if the technicalities of these make no sense – just be assured that we're eeking out every last drop of performance from these already brilliant products.
We'll help you install and configure your new product to ensure your purchase brings you pleasure, reliability and simplicity of use for many years to come.
Here's our first four:
1)  MOON by Simaudio 680D – save £900
The clamour for auditions of Moon's latest streamer took us a little by surprise. As it happened the HiFi press got hold of a demonstrator ahead of schedule and unanimously heaped award after award on the player, while we were briefly in the dark as we'd not even heard a prototype. Fortunately all was revealed soon after and we immediately fell in love with the 680D's beguiling presentation – their trademark "analogue" sound from digital sources, music appearing from a completely black canvas and a warmth that would have you thinking you were listening to the best of vinyl. Like all Moon network players the 680D features the Mind2 hardware interface, Qobuz, Tidal Master and local library Studio Master playback as well as native DSD decoding and additional digital inputs for your TV, computer, games console or set top box. Outputs are RCA phono and XLR while network/control features include ethernet, WiFi, Bluetooth and Roon certification.
The Sizzle
Purchase a MOON Evolution 680D  and we'll give you a free English Electric 8Switch network switch (RRP £450) and Chord Epic ethernet cable (£450) to dramatically improve audio performance or a free Innuos Zen Mini III music ripper/server (£899).
2)  Naim NDX2 – save £650 or £900
Naim's NDX2 streamer replaces the bestselling NDX and is built on their latest network and software platforms to improve audio performance and feature demands. A big, big step up in sonics from the ND5 XS2 and incumbent NDX, the NDX2 will play Studio Master from Qobuz or your local library, internet radio, Airplay, Bluetooth, features Roon certification and other digital sources such as your TV, computer, games console or set top box. Connectivity is simple into any amplifier via the RCA phono or DIN outputs and to your network via ethernet or WiFi. Performance can be enhanced further with the optional XPS power supply.
The Sizzle
Buy an NDX2 (£5299) and we will significantly raise your audio performance with a free English Electric 8Switch network switch (RRP £450) and Chord Shawline ethernet cable (£200).
or
Buy an Naim NDX2 with XPS power supply (£9,498) and we'll raise it even further with a free 8Switch (RRP £450) and the superior Chord Epic ethernet cable (RRP £450).
3)  Linn Akurate DS/DSM – save £650 or £900
Linn's Akurate digital streamers have long been the products to beat in this fiercely fought price bracket. As their competitors began knocking on the door with improvements and enhancements to their ranges, Linn introduced their Katalyst DAC architecture and "borrowed" the clock and network interface from the previous generation Klimax DS. The results are nothing short of stunning – akin to lifting a blanket off your speakers. Whether you choose the DS (source only streamer) or DSM (integrated streamer and preamplifier with additional inputs) you'll benefit from Studio Master quality playback from Qobuz or your local library, Airplay, internet radio, Roon certification, Spotify and Tidal. The DSM includes a fully specified preamplifier with analogue, digital and HDMI inputs, RCA, Exakt and XLR outputs and an integrated MM/MC Linn phono stage.
The Sizzle
Buy a Linn Akurate DS (£6,600) and we'll give you a free English Electric 8Switch network switch (RRP £450) and Chord Shawline ethernet cable (£200) to dramatically improve audio performance.
or
Buy a Linn Akurate DSM (£7,500) and we'll raise it even further with a free 8Switch (RRP £450) and the superior Chord Epic ethernet cable (RRP £450).
4)  Linn Selekt DSM – save £650 or £900
At its launch the Linn Selekt DSM quickly became Loud & Clear's most popular high-performance "all-in-one" (one box) music system; a success that continues to this day. The Selekt leads the field in terms of audio performance and modularity, which allows us to tailor the product and budget exactly to your needs. And if those needs change in future, the Selekt can be retro-fitted with additional options to enhance performance or functionality. Linn's vision of the Selekt DSM being the "only hifi you'll need" was bold, but the way in which our customers have embraced it's stunning performance and aesthetic tells us that Linn got the Selekt DSM spectacularly right. The feature set includes Studio Master streaming from Qobuz or your local library, Tidal, Spotify, Roon certification, Airplay, Bluetooth and additional digital and analogue inputs including HDMI and a MM/MC phono stage. Connectivity covers ethernet and WiFi, RCA phono, XLR, Exakt and speaker level output. Stereo comes as standard or full surround sound can be configured with additional modules; furthermore the Selekt can be optioned with or without internal amplification for use "source only" or as a complete music system.
The Sizzle
Purchase a "fully loaded" Selekt DSM (the one with power amplification and Katalyst DAC, £6750) and we'll give you a free English Electric 8Switch network switch (RRP £450) and Chord Epic ethernet cable (£450) to dramatically improve audio performance.
or
Purchase any other Linn Selekt DSM (£4,000 – £5750) and we'll give you a free English Electric 8Switch network switch (RRP £450) and Chord Shawline ethernet cable (£200) to dramatically improve audio performance.
If you want to hear the difference that any of these upgrades make, just get in touch. We'll show you😊.
Analogue August continues with our next batch of Summer Sizzlers!
Get free Nordost cabling with our recommended headphone/headphone amp combo – MOON 230HAD + Focal Clear or a free Rega Fono MM phono preamplifier with our souped-up Rega Planar 6 turntable.
Moon 230HAD amplifier with Focal Clear headphones (£1750 + £1399)
The Sizzle – save £400 with our bundle: package includes FREE Nordost Blue Heaven interconnects and a FREE Nordost Blue Heaven mains lead.
The Moon 230HAD's proposition is simple – complete connectivity for all sources, with amplification capable of driving the most demanding headphones.
If you've never experienced the performance of a dedicated headphone system, you really should visit us and hear what you've been missing.  Free from the compromises of inbuilt headphone stages, a proper headphone amplifier is built to extract the same level of musical detail and emotion as high-end pre/power amplifiers.  When matched with quality headphones, in the same way we'd match a power amplifier to reference loudspeakers, the results are truly breathtaking.
We've picked two stunners which form one of our most popular and compelling headphone systems, and taken them to the next level with Nordost Blue Heaven cabling, included free of charge.  Call us to arrange an audition today.
Rega Planar 6 with Audio Technica VM760SLC (£1050 + £599)
The Sizzle – save £199 with our bundle: package includes a FREE Rega Fono MM phono stage.
A treat for those looking to get deeper into the groove, Rega's Planar 6 builds on over 40 years of engineering research and is one of the most elegant turntables available today.  Featuring the Rega Neo PSU (offboard power supply) for improved audio performance and switchable 33/45rpm, the deck is as sonically pleasing as it is aesthetically with a lightly tinted dust cover.
Email or call 0141 221 0221 to book a sizzler.
Introducing Loud & Clear's Summer Sizzlers! It's gonna be a scorcher 🌞.
We're running our very own Summer promotion this year; think of it as a little reward for enduring 2020 so far! Some incredible products landed this year, though many have been overshadowed by unfortunate world events. So we're presenting them to you in our Summer Sizzlers: incredible music systems and products with incentives to match.
We've put together some sizzling bundles that could bag you over £2000 of savings.
Throughout August and September we'll present killer systems and products, with a focus on Analogue for August and Streaming for September. We've enhanced these with carefully selected, complementary and complimentary upgrades to keep you up and listening through the long hot summer nights.
If you don't see the system/product of your dreams in our recommendations, or want to substitute a component part, don't wait – we're flexible, just call us on 0141 221 0221.
You're welcome to combine offers throughout the promotion, and of course interest free credit remains available on all orders over £1000.  The promotion runs until 30th September 2020. So let's get straight to it: first up, Analogue August.
Analogue System Sizzler
Rega Planar 8, Aria, Aethos, B&W 705 Signature, Chord cabling.
Save £1,148
Turntable
Rega's new "skeletal" Planar 8 instantly became a design icon when it launched in 2018. With audio performance and ease of use to match it has become our best selling turntable within its sector. Rega Neo psu is included and we take the performance further by specifying the Audio Technica 760SLC cartridge and the Rega Aria phono stage to resolve every last drop of musical information from your vinyl.
Amplifier
Rega's Aethos recently arrived to incredibly stiff competition in the mid-priced integrated amplifier sector; pitched against the Moon 340i and Naim SuperNAIT3 it had to be something special to take a place on the racks at Loud & Clear. Not atypically for Rega, it's an absolute sonic stunner, presenting your music in an enchanting manner that few other products come close to. It's build is equally premium, with sleek lines, a gloss fascia and integrated heatsinks adorning the side panels.
Loudspeakers
Bowers & Wilkins' 705S2 had our jaws on the floor when we first heard them. For a standmount 'speaker to extract such warmth and depth from our music left us astonished. And when B&W launched the 705 Signature with upgraded electronics and mechanics, in their unique Datuk Gloss ebony finish, we fell in love all over again. But deeper.
Cabling
There's really one choice for a system of this calibre. The new Chord Epic-X range is slightly slimmer than its predecessor while retaining the screening and conductors that made the incumbent such a performer. Epic-X takes things up another gear and allows each of the products in our system to sing in the way their designers intended.
Expansion
The Rega Aethos amplifier allows for multiple sources, so adding a digital streamer or the sound from your TV or existing equipment is quick and easy. Likewise the turntable can be upgraded with the Dynavector 20X2 moving coil cartridge, or substituted for Rega's reference Planar 10 or a Linn Sondek LP12.
The System
Taking three "best of breed" products and hooking them together we were of course expecting wonderful results. However, none of us were prepared for what we heard; the sheer synergy that the Rega/B&W/Chord combination hit us with was stunning.
For music to be so tactile; for the recording of a piano that sounds exactly like – a piano.  Allen Toussaint's American Tunes had us sitting in a smokey club, lamps and brandies on velvet-topped tables, Allen's keyboard within touching distance. Or the shimmering layers of Lana Del Ray, with her subtle pitch-bends and seismic, gut-wrenching basslines. We couldn't imagine getting any closer to the music unless standing in her studio booth in L.A.
The Sizzle
This system, including installation, would normally retail for a smidgen over £10,000. We will include the Audio Technica 760SLC cartridge free of charge and Chord Epic-X cabling at the same cost as Shawline-X, reducing the total cost to £9,000 and saving you a sizzling £1148.
Analogue Product Sizzler
Dynavector XX-2 MKII moving coil cartridge
Choose £105 of free Tone Poet vinyl
The XX-2 MKII has become our weapon of choice on higher-end Rega and Linn turntables, fundamentally because it opens a window onto your music like nothing else in its class.  Everything you hear through the XX-2 sounds more real, more familiar and more toe-tapping. What better way to enjoy than by listening to some of our new Tone Poet vinyl?
The Sizzle
When you have an XX-2 fitted (£1295, fitting free of charge) this summer we'll give you three free Tone Poet albums of your choice.
Coming next: more Analogue System and Product Sizzlers
Coming next month: September Streams – Digital diamonds from Linn, Naim, MOON by Simaudio and more.
Dear friends, customers and colleagues,
We are excited to announce that Thursday 2nd July 2020 has now been set as the 'Safe & Sound' reopening day for both Loud & Clear shops – Glasgow and Edinburgh.
During this initial phase of our return to work, we will be operating reduced showroom opening days and hours as follows:
Thursday: 12pm – 6 pm
Friday: 12pm – 6pm
Saturday: 9.30am – 5pm
We plan to extend opening days and hours as we progress into summer and as circumstances allow and we will keep you all informed of any changes via email, social media and our website when we do.
Within the store we will be offering restricted access both in terms of visitor numbers as well as having certain areas of the store off limits to visitors. We will be operating social distancing measures and hand sanitiser will be available at the store entrance with usage encouraged on entry.
Be assured that we have undertaken a thorough risk assessment of all of our processes and as a result will:
* Increase the frequency of hand washing and surface cleaning
* Limit the number of visitors in store and encourage single person visits
* Keep any face to face interaction time as short as possible
* Use screens or barriers to separate people from each other
* Use back-to-back or side-to-side working (rather than face-to-face) whenever possible
* Reduce the number of people each person has contact with by using 'fixed teams or partnering' (so each person works with only a few others)
* Wear appropriate PPE in line with government guidelines
Please note not all staff may be available at all of these times and we would appreciate if you could contact us ahead of any proposed visit so we can coordinate access and availability.
Appointments outwith the stated opening times may be available by prior arrangement on:
Wednesdays 12pm – 6pm
Thursdays 6pm – 8pm
Please email glasgow@loud-clear.co.uk or call 0141 221 0221 to book.
Video and telephone consultations will also be available at these times.
Loud & Clear has been operating from remote locations since March and this has proven to be extremely effective, so a number of our services will continue to operate in this way. Additional services will be introduced over the coming weeks.
Our install team will also be returning to work this week (beginning today, 23rd June) and we will be in contact regarding any outstanding works or progress on projects.
Please stay in touch with us via the usual channels of telephone, email, newsletters and social media. However, in the current circumstances please forgive us if we take a little longer to respond.
glasgow@loud-clear.co.uk
0141 221 0221
We are raring to get back to what we do best and will be in touch again before July 2nd with more detail of what to expect, as well as of course some exciting new products.
All the very best, and now, more than ever, stay safe and enjoy your music!
The team at Loud & Clear
Dear friends, customers and colleagues,
We anticipate that today Saturday 21st March 2020 will be the last limited access retail day at Loud & Clear Glasgow – for the next wee while at least.
Making this move has been a difficult decision but we feel strongly that it is our social responsibility to look after the health and safety of our customers, friends and team.
Please do stay in touch with us via the usual channels of telephone, email, newsletters and social media as we plan to continue to offer mail order sales, remote support and home deliveries. Demonstrations by appointment are also possible.
glasgow@loud-clear.co.uk
0141 221 0221
We have been operating Loud & Clear from remote locations for a while now which is proving to be very effective. We hope to expand our remote services in the coming days.
All the very best and, more than ever, stay safe, stay home and enjoy your music!
The Loud & Clear Team
In these trying times it's our priority to focus on the health and welfare of our customers, suppliers and team.
Within reason we will be trying to keep it business as usual – the shop will be operational this week on Wednesday and Friday but on reduced hours (10.00 – 17.00) and reduced staffing levels – please bear with us until normal service can be resumed.
Although hygiene and health and safety have always been a priority at Loud & Clear we have put extra measures in place to prevent the spread of the virus. We have reviewed our processes and implemented extra hygiene steps where there is any potential for virus transmission and will continue to do so.
We will be adopting a no handshake policy
Please maintain a respectful distance if visiting as we will.
No tea/coffee or other refreshments served.
Lunchtime closures for 30 minutes at 1.00pm.
All unboxed goods will receive antibacterial wipe down on receipt. If you are concerned about possible damage please wait until a later point before dropping in repairs etc.
Please note that there may be some stock shortages and delays on supply in the coming months.
We are also anticipating delays on service work.
We will be attending installs at least in the short term – but will be calling ahead to ensure that you are happy to receive us.
If any of us develop any symptoms we won't be attending the shop or any installs – we respectfully ask the same for anyone that we are due to come into contact with.
Should there be the further developments in this crisis, we may be forced to further reduce public access to the shop and may decide to close our doors fully for a period of time.
We hope that you all stay healthy and happy and remember that music is a great healer if you find yourself stuck at home for some time.
Best wishes,
The Team at Loud & Clear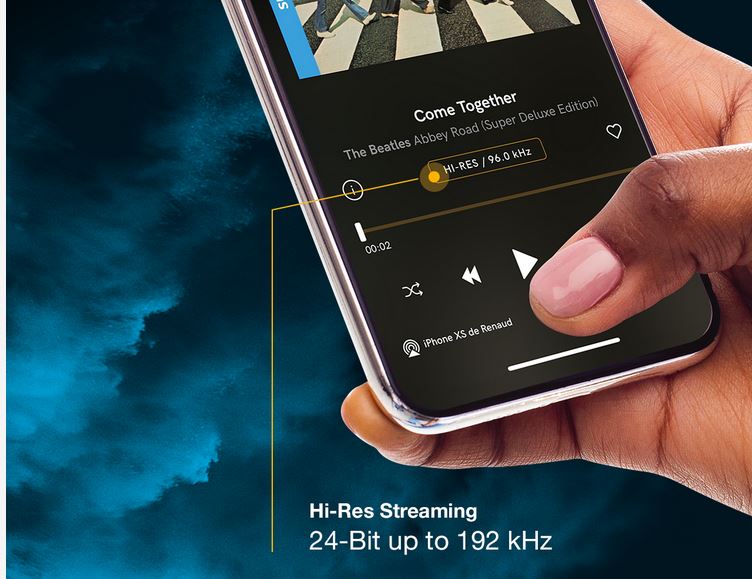 Great news from Qobuz this week – Studio Premier plan is now just £14.99 a month. That gives you access to over 50 million tracks at CD quality and 2 million+ studio masters (Hi-Res audio).
Qobuz has also dropped the price of it's Sublime+ subscription from £299/year to £249 year. Sublime+ gives you unlimited access to Qobuz's certified Hi-Res and CD lossless quality catalogue along with Hi-Res downloads at reduced prices.
Try Qobuz free for a month here:  qob.uz/LCGLASGOW
We did tell you resistance was futile…😉.
It's Davaar 75 time for your Linn DS and DSM systems. This latest software update includes the following new features:
Wi-Fi network connectivity for Selekt (will work on all existing Selekt devices)
Bluetooth audio playback for Selekt (will work on all existing Selekt devices)
Configurable SPDIF input/output for Selekt (will work on all existing Selekt devices on SPDIF 1 connector)
MPEG2 AAC support for Selekt with surround module and Core 1 products with HDMI 2.0 and surround module
Please run Linn Konfig from your Mac or Windows and perform the update in the normal manner (or call us if you need a walkthrough). As always we recommend a cold reboot (at the mains) after the upgrade has taken place.
View the full Davaar feature/bug fix list here: https://docs.linn.co.uk/wiki/index.php/ReleaseNotes
It's been a busy year. so we're having a few extra days holiday this Christmas.
Our Christmas and New Year opening hours are:
Saturday 21st December – 10am – 5pm
Sunday 22nd December – CLOSED
Monday 23rd December – CLOSED
Tuesday 24th December – CLOSED
Wednesday 25th December – CLOSED
Thursday 26th December – CLOSED
Friday 27th December – 10am – 5pm
Saturday 28th December – 10am – 5pm
Sunday 29th December – CLOSED
Monday 30th December – CLOSED
Tuesday 31st December – CLOSED
Wednesday 1st January – CLOSED
Thursday 2nd January – CLOSED
Friday 3rd January – 10am – 6pm – back to normal thereafter
Thanks to all our lovely customers, suppliers and friends for making it another belter. Wishing you all a very Merry Christmas and a spectacular 2020!
✨ That's all for 2019 folks ✨
Save on Sonos this Black Friday – but you'll need to be quick!
For five days only, Sonos are offering this Black Friday/Cyber Monday promotion:
£30 off Sonos One SL: promotional price £149
£40 off Sonos One: promotional price £159
£70 off Beam: promotional price £329
£100 off SUB: promotional price £599
From November 28th – December 2nd inclusive, all in stock now.
We are absolutely thrilled to announce that Loud & Clear are now authorised retailers of Bowers & Wilkins flagship 800 Diamond Series loudspeakers. And alongside 800 range: 700 Series, 600 Series, new Formation wireless and B&W headphones.
Bowers & Wilkins have been manufacturing exceptional loudspeakers in the UK since 1966. That's over 50 years of audio excellence. The final piece of the Loud & Clear musical jigsaw? Unlikely, but B&W is certainly a pivotal string to our bow, and one which we are VERY excited about.
Ranging from £399 to £25,000, our comprehensive B&W loudspeaker range extends across 600, 700 and 800 Diamond Series. Formation Suite is B&W's range of wireless, audiophile speaker systems and of course B&W headphones – wired, wireless and earbuds have long been acclaimed in the competitive 'can' market.
Our B&Ws are here, running in and already sparkling in our demo rooms. And to celebrate our new partnership, we are hosting a rather special launch evening on Thursday 7th November at Hotel Du Vin, Glasgow. Details in our Events section, here.
Pop in for a listen, register for Hotel Du Vin, or email/call for details or to book a demo (0141 221 0221). You'll be glad you did.
It is six years since the last NAIT integrated amplifiers were released, but Naim Audio's R&D team have been spending that time wisely, working on a range of amplifier improvements. The result is SUPERNAIT3 and NAIT XS3.
SUPERNAIT 3 has received significant performance upgrades, including upgraded power amplifier sections, delivering greater pace and intimacy to their musical delivery – whether it's driving a pair of loudspeakers or your favourite pair of headphones.
SUPERNAIT3 also now benefits from a built-in phono stage, making it a perfect partner for turntables as well as streamers, CD players or any other music source you want to enjoy with the signature Naim sound.
The new NAIT XS 3 also gets improved power sections and a new built-in phono stage, offering much of the performance of the reference quality SUPERNAIT 3 in a simpler, slimmer package.
NAIT XS3 combines a 70W power amplifier with five analogue inputs (in addition to the phono stage) and shares the single-ended class-A headphone output of its larger sibling; a high-performance preamplifier that is as transparent as you would expect from Naim Audio.
Both SUPERNAIT 3 and NAIT XS 3 benefit from the following features:
Class A headphone amplification
Alps Blue Velvet volume control
Reed relay input selection
Ceramic insulators for the power transistors
Galvanically isolated microprocessor control section
Microphonic-isolating PCB mounts
And both are available for demonstration in the shop. Call us on 0141 221 0221 or email to book a demo.
Save 10% on a new generation Linn DSM network music player this summer with Linn's famed 'Summer Promo'.
Trade in any old music player – and we mean anything, working or not – to receive 10% off the cost of a new Linn DSM – Majik, Akurate, Klimax or the all-new Selekt DSM. Save up to £1,580 – and that's on top of any trade-in £ we give you. Plus, you'll get a free 90-day subscription to TIDAL and Roon with your shiny new music player.
With a Linn DSM you can stream everything – your CD collection, HD Studio Master music files, Internet Radio et al; connect anything – record player, iPhone, h , and hear it all in the highest quality available: that's the power of a network music player.
We have every Linn DSM in the shop – pop in, call (0414 221 0221) or email us to arrange a listen.
DSM offer – full details and T&Cs
And if you're already the proud owner of a Linn system, don't forget part 1 of the summer promo – 10% off an Exakt or Katalsyt upgrade
Both of these upgrades will transform the performance of your music system. They are the proverbial no-brainer. If you have a Linn product for which an Exakt or Katalyst upgrade is available, you will receive 10% off the price of the upgrade to the latest specification of your product.
In addition, Linn Aktiv Systems owners can upgrade their system to Exakt by replacing the Aktiv cards or the Linn Tuneboxes with the required number of Exaktbox products and be eligible for 10% off the price of the Exaktboxes.
Both offers run until 26th August.
Katalyst/Exakt offer – full details and T&Cs
Modularity, upgradeability and flexibility – three cornerstones of Linn's ethos for almost half a century now and still going strong. Here's the latest two examples: Selekt DSM Surround and Katalyst for Exaktbox-I.
Selekt DSM Surround
Six months on from the launch of Selekt DSM Linn has announced four more configurations – to appeal to any movie-lovers out there. Selekt DSM Surround with integrated amplification is a single box surround source of the highest performance delivering a simple yet striking and immersive cinematic experience. Or if you already a Selekt DSM owner, there is a corresponding Surround option for each of the four original Selekt DSM configurations.
Selekt DSM Surround comprises a Surround Sound Processing module, HDMI Switching module and three cartridges housing the DACs – either three line out or two power amplification plus a new combined power amp / subwoofer line out (depending on the model) – all uniquely packaged as modules and cartridges to fit efficiently into a compact space.
Upgrades available now…
For existing Selekt DSM owners ready to make a change, the upgrade opportunities are extensive…
• Increase performance with Katalyst
• Simplify your system with on-board amplification
• Expand your system to Surround (up to 5.1)
• Move from HDMI ARC to HDMI Switching (4 inputs / 1 output)
Katalyst for Exaktbox-I
Katalyst DAC architecture has now been added to Akurate Exaktbox-I, applicable to all new orders or available as an upgrade for existing owners.
Akurate Exaktbox-I Katalyst upgrade – £2250, also available for Majik Exaktbox-I. 

If you've been thinking of investing in a couple of upgrades for your LP12 turntable, now could well be the time to act – with Linn's Spring LP12 upgrade promotion, you could transform the sound of your turnrable, and save yourself up to £600. Win win!
From today, 5th March until 30th April inclusive, buy any LP12 upgrade and receive a substantial 15% off a second LP12 upgrade.
Whether you are taking the final steps to creating the ultimate Klimax level deck or replacing a Majik internal power supply with a Lingo – there's something for everyone. Plus, the new all-Linn Majik tonearm is now available to purchase separately (£600) and is included in the promotion.
Upgrades Included:
– Sondek LP12 (deck only)
– LP12 Plinth
– Cirkus Kit
– Trampolin
– Keel
– Kore
– Standard sub-chassis
– Radikal (standard or machined)
– Lingo
– Majik PSU
– T-Kable
– Ekos SE
– Akito
– Majik tonearm
– Urika & Urika II
– Uphorik
– Internal MM/MC module
15% discount applies to the cheaper of the two upgrades and a maximum of four upgrades per customer (two receive 15% off).
Exclusions:
• Klimax LP12
• Akurate LP12
• Majik LP12
• Radikal & Urika package (both standard and machined)
• Kandid
• Krystal
• Adikt
• Adikt Stylus
We're delighted to have a pop-up exhibition from Seán Kerr Photography  here in the Glasgow store until the end of March – 'The Wonder of Harris'
Seán is a Scottish landscape photographer from Dunblane with a passion for the natural world, particularly the Highlands and Islands of Scotland, and for representing that world in context and with the utmost respect and integrity. His portfolio covers a wide range of Scotland's most stunning locations but the Isle of Harris is where he feels most at home and inspired.
"The natural beauty of Harris is breathtaking and, when combined with the ever-changing weather and the remarkable purity of light, is an artist's dreamland. When I'm here, I just feel right".
Seán has been kind enough to let us show off a range of images from "The Wonder of Harris" – with both prints and panels available to purchase, from £40.
Do pop in for a browse.
A fascinating insight into the design and build of Rega Research's new Planar 8 turntable…
We're having a few days rest over the festive period – to enjoy our own music at home!
Wishing you all a wonderful Christmas and a splendid New Year.
See you on the other side😉.
Linn's winter promotion gives you everything you need for stunning analogue and digital music; the best of both worlds:
Majik LP12 + Majik DSM winter promotion package = £5000
Experience the warmth of vinyl playing on this iconic turntable design, now upgraded with Linn's very own Majik tonearm. Connect it directly to Majik DSM with built in phono preamplifier and you have a complete audiophile analogue and digital music system; just add speakers.
Source first (or rubbish in, rubbish out); Linn's established philosophy for 45 years. The more information that can be extracted from a musical recording at the source (turntable, streamer, tape or CD) the more accurately the music will be reproduced at the end of the chain (speakers).  The best speakers in the world can't make poor audio data sound good. But even mediocre speakers will sound remarkably good when presented with accurate music from a high quality source. With Majik LP12 and DSM, you have two exceptional sources for the best of both worlds – whether cherished vinyl LPs or studio master 24 bit digital recordings, exactly as the artist performed in the studio.
This special offer from Linn runs from today (4th December) until Tuesday 29th January inclusive. It might be the only hi-fi you ever buy or need, but both also leave an almost limitless upgrade path open. Win win😉.
Linn has announced it will re-introduce DS to DSM upgrades for Akurate and Klimax products from today, Monday 3rd December, until February 28th 2019.
This upgrade – withdrawn alongside the discontinuation of Linn DS products in September – converts an Akurate DS to a full and current Akurate DSM, or Klimax DS to a Klimax DSM, complete with a new 5 year Linn warranty.
Upgrade prices:
Akurate DS to DSM – £3,000
Akurate DSM retail price £7,500
Klimax DS to DSM – £8,800
Klimax DSM retail price £15,800
Four four days only, we have three cracking SONOS Black Friday deals.
From today, Thursday 22nd November until Monday 26th November inclusive:
Save £25 on Sonos One – £174  (RRP £199)
Save £50 on Sonos Beam – £349  (RRP £399)
Save £100 on Sonos Sub – £599  (RRP £699)
All available in black or white finish and in stock now.
Some well-deserved recognition for two of our faves at Loud & Clear. MOON's 240i integrated amplifier and Neo MiND streamer have both received What Hi-Fi 2018 Winner Awards.
240i won best stereo amplifier in the £1500-£2500 category: "Its sophisticated performance puts the 240i in a class of its own"
Read the full 240i review here
And Neo MiND won best music streamer over £1500: "An all-round musical maestro. Far from flashy, but the Moon Neo MiND delivers the kind of musical performance we rarely hear from streamers anywhere near this price"
Read the full MiND review here
And that's without the MiND2 upgrade. Well done MOON!
Our downstairs demo room has been a very busy place of late. Competition for air time is fierce but we're thrilled to say that this week's 'System of the Week' is Naim Audio's reference 500 series:
NEW ND555 network music player
NAC552 pre-amplifier
NAP500 power amplifier
All of course powered by their own 555PS. This is the crème de la crème of Naim electronics and will be playing until close of play on Saturday (at least!).
Loudspeakers are interchangeable; playing now are our Sonus Faber Guarneri Tradition but we'll be putting a selection of the finest speakers through their paces on the end of this mighty system, including:
The new NDX2 and ND5 XS2 are limbering up alongside, patiently awaiting their moment to shine. And there's the chance to compare Chord Company Sarum T cables with the flagship ChordMusic. It is a dem-fest!!
If you couldn't make it along to our Hotel Du Vin ND555 launch evening in August (or if you did and would like another listen) pop along anytime this week. Special appointments (or loudspeaker requests) by request – call on 0141 221 0221 or email us.
'Digital streaming reborn' according to Hi-Fi+ magazine.  Loud & Clear welcomes the new Linn Selekt DSM.
Selekt DSM is a new look for Linn in a new, flexible direction. It is as stunning to look at as it is to listen to. Every element is precision engineered for the most authentic musical performance possible.
A sleek, elegant and tactile design incorporates a top-mounted jewel-like dial and smart buttons, both ready to be personalised, giving you immediate access to the music you want to hear, no matter the source. And bringing back perhaps some of the human interaction with your hi-fi that has been lost with the evolution of digital music.
Customers can choose their own configuration – Selekt DSM with or without Katalyst performance level and with or without integrated power amplifier – to suit their existing needs and system; a flexibility and willingness to integrate with other manufacturers' products that historically Linn have been criticised for not offering.
Selekt includes new, improved Space Optimisation*, minimising the impact on sound quality of room 'quirkiness' and speaker positioning by removing the distorting effects of your environment, revealing the true sound of your music.
Control with anything: every Linn network music player can be controlled by the things you already own. Mix and match iPad or tablet, smartphone or laptop, even the humble remote control.
Stream anything: no matter how you enjoy your music, Linn have it covered. From the convenience of Spotify and TuneIn to lossless streaming services such as TIDAL and Qobuz; whether you Airplay from your iPad or you've ripped your CDs to a hard drive.
Models in the Selekt range are as follows:
Selekt DSM: dedicated streaming source and preamplifier
Selekt DSM with Katalyst: dedicated streaming source and preamplifier with dramatically improved performance
Selekt DSM with integrated power amplifier: simplified streaming, just add speakers
Selekt DSM with Katalyst and integrated power amplifier: simplified streaming, dramatically improved performance, just add speakers
Digital inputs: SPDIF x2, Toslink x2, HDMI ARC x1, USB (Audio Class 2 endpoint) x 1
Analogue inputs:  Line-In (RCA) x 1, MM Phono (RCA) x 1, MC Phono (RCA) x 1
Outputs: Balanced XLR* x 1, RCA Phono* x 1, Speaker Out** x 2 pairs, Exakt Links x 2
* New Space Optimisation delivers a breakthrough in bass performance and a more coherent overall sound, no matter the shape of your listening room and without the need for custom filters. The latest version offers the following new features:
models non-rectangular rooms
accounts for the pressure changes in a room over time
Click here for a list of speakers measured for Linn Space Optimisation+
Selekt comes in black finish only.
Selekt will be here this week, email or call to register your interest. And our launch event will be here in the shop on Tuesday 23rd October, details on our Events page soon.
Loud & Clear to Everyone,
Take your protein pills and put your helmet on…

Commencing countdown, engines on,
Check ignition and may God's love be with you!
Join us at Knockhill Racing Circuit on Sunday 14th October for 'A Day at The Races' with Nordoff Robbins.
Spectate, sponsor or participate, the choice is yours. Participation involves a four lap passenger ride around this iconic motor racing circuit – Scotland's only FIA and MSA accredited racetrack – in one of fourteen track-prepared cars.
The price? A donation of your choice to Nordoff Robbins, independent music therapy charity for children. Pledges so far include passengers' weight (kg) in £s, and the equivalent horsepower of the track car in £s, but really it is whatever you feel comfortable with.
Our exclusive track access is scheduled for lunchtime and all passengers will be fully briefed beforehand. After that, the process is simple:
Donate – don helmet – take your seat – buckle up – relax.
You are in control of the thrill of your session and, should you wish, your driver will return you to the pit area at any time.  Afterwards you will be welcome to join the Loud & Clear and Nordoff Robbins teams for refreshments and our usual brand of camaraderie.
Interested? Please email george.c@loud-clear.co.uk or call him on 0141 221 0221.
The whole adventure has been made possible with the help of our incredibly generous co-sponsors: Fyne Audio, Synergy Cycles, The Chord Company, Fueltone.pro, Steven Allan Images, Netherton Coachworks and of course Knockhill Racing Circuit itself.
If you'd rather spectate there will be a full roster of track action from 9am to 5pm plus around 200 static, contemporary displays courtesy of Knockhill's season finale "Six Flags" event – the best of British, American, German, French, Italian and Japanese sports and racing cars. And our sponsor, Synergy Cycles will be bringing along some nice toys to play with too – electric bike anyone?!
If you can't make it along but would like to donate to Nordoff Robbins, thank you and please do so at their Just Giving page here:
We have scheduled a dry and sunny day, but on the off-chance that our request is not honoured, some of the finest chips and ice-cream in Fife are available in the sanctuary (and shelter) of the famous Kinnaird's café. See you there!
© 2020 Loud & Clear Glasgow